Dear friends of meditation and the Sonnenthal,
we are happy to inform you about the progress that we have made with the extension of the meditation centre so far, and about the next steps.
Two phases of construction will be possible for this year. We still need the financial means to realise them, and will give you more details about this as well as about the renewed call for Dana later in the email.
This week we was working on the side building again.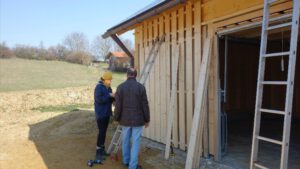 Over the past few months, a lot of the planning for the extension has been happening in the background. Our two architects Ellen and Karl Heinz, who give their services as Dana, have already worked out many details for the construction plan and have consulted other specialist planners.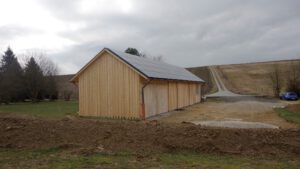 Während der letzten Monate wurde im "Hintergrund" fleißig an den Plänen für den Anbau gearbeitet. Unsere beiden Architekten Ellen und Karl Heinz, die ihre Dienste als Dana geben, haben viele Details für die Werkplanung bereits ausgearbeitet und weitere Fachplaner hinzugezogen.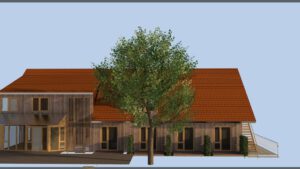 Next steps

During the first construction phase in August, we plan to create the foundation with a base plate, supporting wall and an earth cellar. The costs for this are estimated at around € 195,000. This amount also includes various additional expenses that will accumulate until then.
In order to start this first phase of construction, around 40,000 € are needed in order to have planning security.
With the second construction phase starting In October, we are planning to create the shell of the building with roof and windows. This is the biggest step that has to be completed in one go. The costs for this are estimated at around € 1,100,000.
The further construction phases can then be carried out in smaller steps.
It is a giant step that we are taking with the shell of the building. Some companies have already reserved production capacities for this. If the necessary amount is available by the end of April, the order can be placed. If this is not the case by then, this construction phase will be postponed.
We have every confidence that everything will happen at exactly the right time and we remember the recommendations of our Most Venerable Ajahn Tong to always take the steps that are possible.
This is how we have proceeded up to now and unexpected doors have opened again and again.
The call goes out to everyone to participate in this great work.
To be there with all your financial and spiritual possibilities.
To tell other people about it.
To send metta to all those who give Dana.
For the first construction phase "Foundation", another 40,000 € are needed.
Who can contribute? Who can, together with friends, relatives, colleagues, collect an amount of € 1,000 for example?
Who has the opportunity to give a larger amount?
For the second construction phase "shell construction", a larger amount of € 1,100,000 is required.
Anyone from our circles has the opportunity to make a larger contribution?
Anyone from our circles knows people who appreciate a special project like this one and are willing to give a larger amount, or even the entire sum for it?
The bank account is:
DHAMMACARI VIPASSANA MEDITATIONSZENTRUM E. V.
SPARKASSE ERDING – DORFEN
IBAN: DE74700519950010183903
SWIFT-BIC: BYLADEM1ERD
Please reference as: "Erweiterung Dhammacari"
For the entire project, Buddha statues will be created for the Dana gifts.  As we have already shared in previous emails, the artist M. Lena shows her great ability as a sculptor in making the Buddha statues.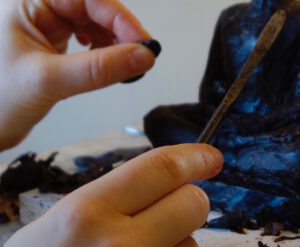 Buddha statues are created in different sizes and designs, depending on the amount of Dana given. Here, you can witness the "birth" of one of these statues and marvel at how delicately M. Lena creates it.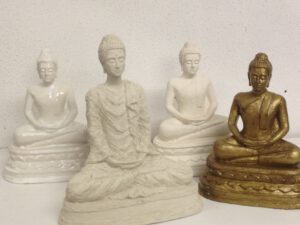 This diagram shows the amount of donations that have already been received since we started this extension project.
With Metta
Your Dhammacari-Team