Dear friends of meditation and the Sonnenthal,
On September 30th, the digger began the earthworks for the foundation.
During the entire planning process, we tried to protect our large birch tree.
Unfortunately, it had to be removed right at the beginning, as we had to remove a lot of the big slope for the excavation in order to avoid a collapse.
In a small area this did happen after all ….. but we were happy that no one was harmed … our devas and protective beings did take good care of us…
So in the end, the construction pit became even bigger.
But the collapsed earth could quickly be reattached so that work could continue.
Meanwhile, the concrete work for the foundation strips is going well ….
On the weekend before construction began ...
….Rainer, Fabian, Anastasia and Robert did a lot of work in preparation for the start of construction:
There was still some shrubbery to be cut back, and the wooden terrace needed to be largely dismantled, as a small strip of foundation will be needed in this area for the balconies of the extension.
…. and after all the "important" work there was also a creative task to be completed:
Anastasia and Fabian built an insect hotel from our "building materials storage". This also serves as a privacy screen from the street to the back of the composting toilet and is a beautiful sight for everyone who comes by. We had a lot of fun with the construction and are curious to see who will move in.
Thank you very much, and metta for everyone who gave further Dana for the extension and for certain structural components.
We received a further amount from
27.875 €
on the account. 
In detail, these are:
13.500 €
which were given without a specific dedication and may be used for the additional costs of the foundation.
| | |
| --- | --- |
| 24 m² | Outer wall |
| 2 m² | Roof area |
| 10 m² | Roof covering |
| 1 m² | Inner wall 120 |
Since our first Dana call,
308.739 €
Dana has been given for the entire extension project.
That's fantastic!
From this, the barn, the PV system and the new sewage treatment plant have already been built … and with our reserves that have accumulated in previous years, now also the foundation.
Here, we would like to also mention again all the manual support meditators give, when they come to help to support the growing.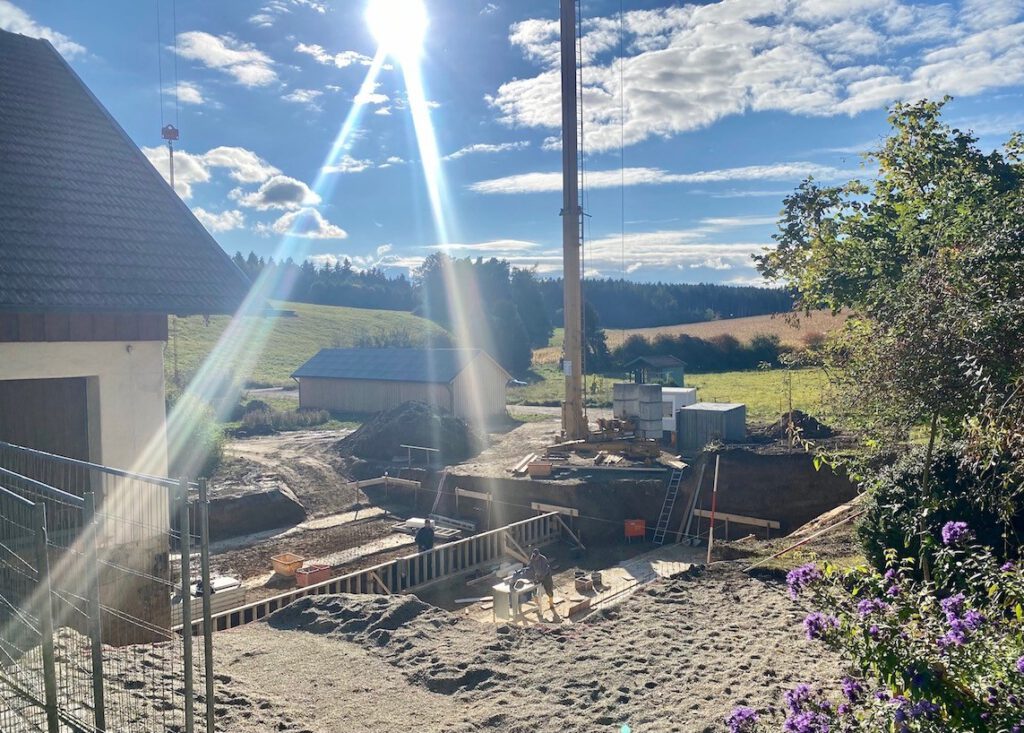 We have also asked for a subsidy for energy-efficient building at the KFW-Bank and, fortunately, we have already been promised a subsidy of
max. 375.830 €
for the entire extension. This sum will be paid out once the construction work has been completed and checked.
There is still a long way to go until completion and we are moving step by step, as it is made possible by everyone who gives so generously and again and again.
A few more components are still needed for the shell.
Many parts become a whole
We have listed the different components and their quantities.
 When the total amount for the shell construction has been collected, the order will be placed.
| | | |
| --- | --- | --- |
| Outer Wall built from layers of wooden boards | 193m² | 500€ / m² |
| Window Areas | 145m² | 750€ / m² |
| Roof surface made of board layers | 365m² | 400€ / m² |
| Roof covering including roof tiles | 524m² | 130€ / m² |
| Ceiling garden level | 225m² | 400€ / m² |
| Ceiling ground floor | 333m² | 400€ / m² |
| Inner wall 180 mm | 385m² | 350€ / m² |
| Inner wall 120 mm | 446m² | 300€ / m² |
Various extra charges and completion costs are already included in the amounts above. But there will certainly be other costs, such as for the demolition and renovation work, or the costs of the Construction management for example, that will be added to the list later on.
Who will be there with the 1st m²?
Who can give several m²?
Who would like to sponsor a m² together with friends?
Who can give one m² every month?
Who can pass on the opportunity of giving to friends?
There are many opportunities to take part again, to be active.
Everyone is invited and called to be there, to take part …
We will keep updating you on the current status.
For your bank transfer, please state
'Rohbau'
as your purpose of transfer, and please also state the
corresponding 'm²'
of the construction part that your donation is for. 
Account details:
Dhammacari Vipassana Mediationszentrum e. V.
Sparkasse Erding – Dorfen
BLZ 700 519 95
Konto 101 83 903
IBAN: DE 74 7005 1995 0010 1839 03
SWIFT-BIC: BYLADEM1ERD