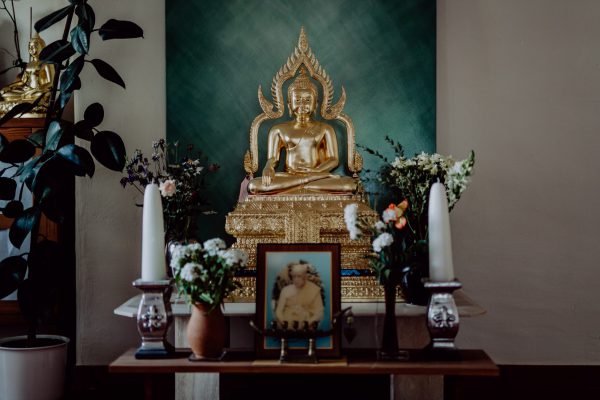 Course information
Course information
The Meditation Centre is open throughout the whole year (including Christmas and New Year) with the exception of a period in August, when a meditation course is organised at the Benedictine Abbey of Scheyern. You can start your course at any time, as long as there is space available.
If you are interested in doing a basic course or retreat, please contact us via e-mail (see "Contact/Registration") and let us know which dates you would like to come. We will check for availability and get back to you.
To register for any course, please send us your full name, e-mail address, telephone number and postal address.
Course options
Course
Duration
Short description
Details
Basic course
(start at any time)
15 days
The course is open to everyone interested in getting to know Vipassana mediation in the tradition of  Most Ven. Ajahn Tong.
Info I
Retreat
(start at any time)
12 days
The 10-day retreat (plus arrival and departure day) is open to all meditators who have already completed the basic course.
Info I
Summer course at Benedictine Abbey in Scheyern
12 – 15 days

Every year in August we offer a basic course as well as a 10-day-retreat at the Benedictine Abbey in Scheyern (Bavaria). The course is lead by Khun Thanat Chindaporn & Khun Kathryn Johnston-Chindaporn together with Hildegard Huber

Info II
Daily retreat
(start at any time)
8 – 12 weeks
Meditators integrate a regular schedule of meditation for several weeks into their daily lives and are guided through the course by our teacher Hildegard Huber. To complete the course, 2-4 days of presence in the meditation centre are required.
Info III
Individual days of practice
 

It is also possible to come for a few days of meditation. However, please note that we give preference to meditators signing up for a basic course or a 10-day retreat. Because of this, we can take reservations for individual meditation days on short notice only.

 
Daily schedule
Our meditation centre offers a space for seclusion and the opportunity to fully immerse yourself in and concentrate on your practice. In general, the daily schedule consists of:
the individual meditation sessions
a daily report with your teacher
one hour of working meditation to help us run and maintain the centre
the meals
You can practice in your room, the meditation hall or outside in the garden and you will be able to fit in breaks between your individual meditation sessions. However, there will be no time to pursue any leisure activities.
Liability
The "Dhammacari Vipassana Meditationszentrum e.V." as well as the meditation teacher and the voluntary staff cannot accept any liability for physical and psychological damages, which may arise during the participation in one of the courses.
Calender
Schedule of the teacher for 2020 – 21
Dates
Teacher
Details
5. September – (appr.) 3.November 2020
Hildegard  Huber
Info I

3. November – 6.December 2020

(the date of the start is still flexible)

Venerable Phrakhrubhavanabidhan
Phra Ajahn Ofer
Info I
6 December 2020 –
13 August 2021

Hildegard Huber
(subject to change based on invitations being extended to guest teachers)

17 August – 31. August 2021
Basic course and 10-day retreat at Benedictine Abbey in Scheyern (Bavaria) with  Khun Thanat Chindaporn and Khun Kathryn Chindaporn and Hildegard Huber
Info II
 

 

 

Throughout the year:
Daily retreat
Hildegard Huber
Info III
What to bring
Please bring

comfortable, white clothes ("fit for a monastery", not too tight, not see-through, shoulders and knees should be covered)
digital timer and alarm clock (mobile phone need to be deposited with house management for the duration of the course)
slippers to wear inside the house
towels
bedclothes (fitted sheets, bedsheet, pillowcase)
thermos flask
flowers for the shrine/opening ceremony (white or light coloured)
shoes and clothes for working meditation outside 
Please note that we are a mobile-phone-free-zone. Phones have to be deposited with house management at the beginning of the course.
Further, the house has a biological sewage system and we kindly ask you to only bring biologically degradable soaps, shampoos, etc.
Unfortunately, we do not have the possibility to process donations made by debit- or creditcard (cash only).
Participation fee
Dana
Participation in the courses is based on Dana (to translate "Dana" with "donation" does, unfortunately, not really capture the much deeper and more complex meaning of Dana).
We specifically do not give any recommendation for the amount of Dana. This is in accordance with the Buddhist tradition that the value of the teaching cannot be measured in terms of money.
Giving and generosity are active aspects of any spiritual practice. They help to maintain the teaching and to make it available to everyone.
We do not have the possibility to take donations by debit- or creditcard. Kindly bring cash with you.
"Dana" is gift and generosity.
It embraces the support of those who unselfishly and openly
give of their time and knowledge to teach the path of
silence, insight and compassion.
Dana is a way of thanksgiving:
a spontaneous grateful offering which stems from the appreciation
of that which was received.
Such generositiy cannot be forced.
It simply opens when the tree of mindfulness
blossoms and finally bears fruit.



Bank details


Dhammacari Vipassana Meditationszentrum e.V
Sparkasse Erding-Dorfen
IBAN: DE74700519950010183903
SWIFT-BIC: BYLADEM1ERD
Donate with Sofort