Dear friends in the Dhamma,
all of us in the house are in retreat from December 6th to January 6th. We have reduced our tasks as much as possible in order to practice intensively.
So I'm using the time of my working meditation to give you a short report from our construction site: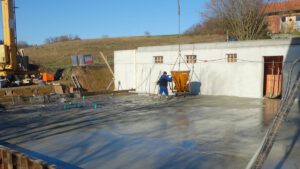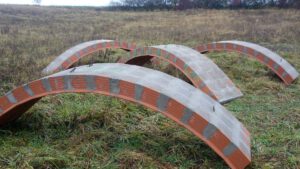 The weather was kind to us and the work on the foundation went well. After the retaining wall to the slope had been concreted, the floor slab could be poured.
The highlight, however, was definitely the small earth cellar that we had included in the planning. This will serve as a storage space for fruits and vegetables. Such an earth cellar keeps the storage temperature at around 8 ° by itself.
Here are the first parts on the ground …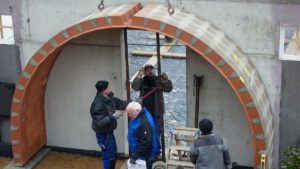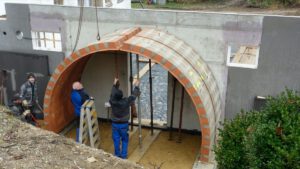 … and here they are already put together …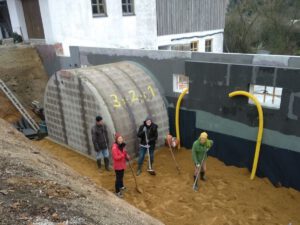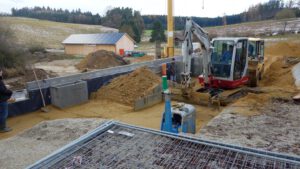 The earth cellar also received a clay layer to seal it off …. for this we got the opportunity to shovel and to stomp.The rest of the work could then be done by the machines again …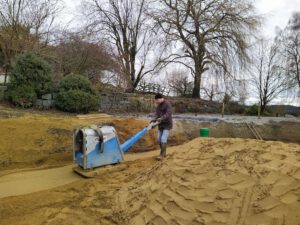 … and Robert.
Dana for the structural building
Since our last report at the end of October, a further € 17,000 of Dana for the structural construction has been received in the association's account.
The total amount so far given for the extension in the form of Dana has thus grown to 
325.769 €
In addition, a large part of the planning costs was given as Dana: above all from Ellen, who worked intensively on the construction design, but also from Karl-Heinz who contributed many hours to find the best solutions. This is an additional value of more than € 60,000 for the association. 
Traditionally, the Buddhist teaching is sustained by Dana – that is, voluntary gifts from students and people who appreciate the teaching – and it is one of the highest merits to give food and shelter for meditators.
Thank you very much for all your donations.
May all who give and contribute so generously achieve Metta from all of us and bear fruits.
To date, the costs for building the foundation are at € 186,000 including the earth cellar.
In the spring, there is still remaining work to be done with lines, pipes and filling work…
as well as the construction of the foundation for Angelika's Kuti.
Many parts become a whole
At the same time, the structural work is growing with Dana, i.e. walls, roof and windows. Dana is already in place for the following areas:
| | | | | | |
| --- | --- | --- | --- | --- | --- |
| 40 m² |   | External wall | out of | 193 m² |   |
|  1 m² |   | Window area | out of | 145 m² |   |
| 2 m² |   | Roof area | out of | 345 m² |   |
| 21 m² |   | Roof covering | out of | 524 m² |   |
| 5 m² |   | Inner wall 180 mm | out of | 385 m² |   |
| 9 m² |   | Inner wall 120 mm | out of | 446 m² |   |
| 0 m² |   | Floorceiling garden level | out of | 225 m² |   |
| 1 m² |   | Floorceiling ground level | out of | 333 m² |   |
We have listed the different components and their quantities.
 When the total amount for the shell construction has been collected, the order will be placed.
| | | |
| --- | --- | --- |
| Outer Wall built from layers of wooden boards | 193m² | 500€ / m² |
| Window Areas | 145m² | 750€ / m² |
| Roof surface made of board layers | 365m² | 400€ / m² |
| Roof covering including roof tiles | 524m² | 130€ / m² |
| Ceiling garden level | 225m² | 400€ / m² |
| Ceiling ground floor | 333m² | 400€ / m² |
| Inner wall 180 mm | 385m² | 350€ / m² |
| Inner wall 120 mm | 446m² | 300€ / m² |
Various extra charges and completion costs are already included in the amounts above. But there will certainly be other costs, such as for the demolition and renovation work, or the costs of the Construction management for example, that will be added to the list later on.
Who will be there with the 1st m²?
Who can give several m²?
Who would like to sponsor a m² together with friends?
Who can give one m² every month?
Who can pass on the opportunity of giving to friends?
There are many opportunities to take part again, to be active.
Everyone is invited and called to be there, to take part …
We will keep updating you on the current status.
For your bank transfer, please state
'Rohbau'
as your purpose of transfer, and please also state the
corresponding 'm²'
of the construction part that your donation is for. 
Account details:
Dhammacari Vipassana Mediationszentrum e. V.
Sparkasse Erding – Dorfen
BLZ 700 519 95
Konto 101 83 903
IBAN: DE 74 7005 1995 0010 1839 03
SWIFT-BIC: BYLADEM1ERD
In turbulent times like these, "mental hygiene" is needed more than ever.
We wish you all a lot of time to practice, to come down to the here and now, moment by moment and step by step …
… an arrival in the silence that this time at the turn of the year carries within itself …

happy days with your family and loved ones and a smooth transition into the new time.

May you be healthy and strong and patient
…may you find the real happiness.
You are welcome to get in touch if you want to start an daily or intensive retreat with Hildegard, using phone reports.
While listening
to true teachings
the hearts of those
who are receptive
become calm as a lake,
deep, clear and still.
Dhammapada V. 82
With Metta
Hildegard * Angelika * Elisabeth