Dear friends in the Dhamma,
we have got some good news for you:
On the 10th of September we received the full building permit for the expansion of the meditation centre.
This is great because a few points regarding fire protection still needed to be clarified beforehand with the authorities.
In the last few weeks and months, many decisions have been made, details have been polished and various solutions weighed against each other …. craftsmen have been contacted and offers obtained.
We have had lively exchanges with our architects – Karl-Heinz and Ellen – and Ellen is still busy with the drawings for the last details of the barn to be passed on to the builders.
At this point, I would like to take this opportunity to thank both of you very much for the generous contribution of your architectural work, which you are giving to the project as Dana.
On the Sunday – the 13th – before the construction started, we had a small ground-breaking ceremony.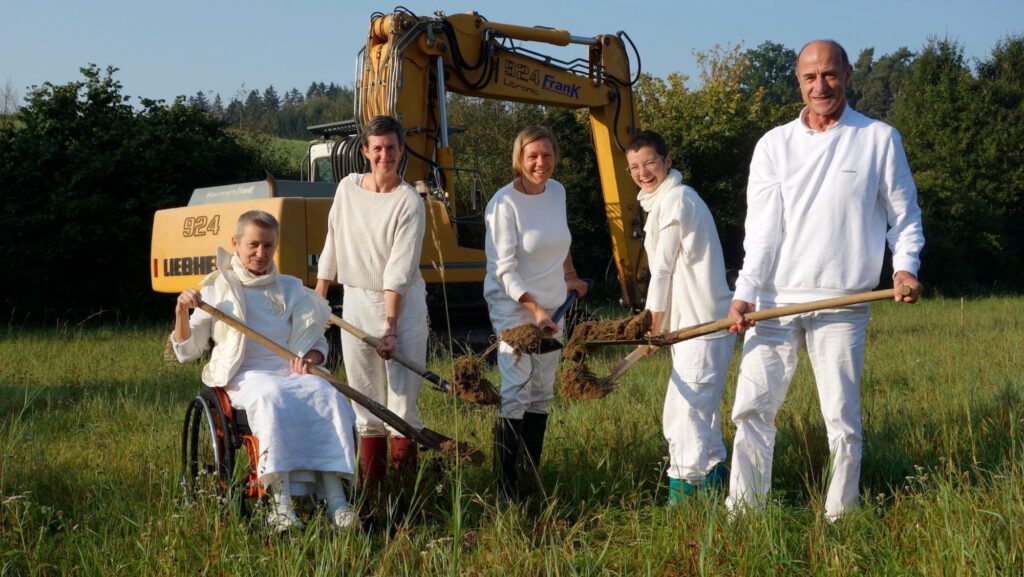 As planned, construction work began on Monday, September 14th:
The excavator company moved in with some machines to create the parking space and the area for the barn, and also to prepare the installation of the new sewage treatment plant.
As you can see in the photos, a few cubic meters of earth were moved, a trench was pulled from the terrace to the meadow, and cables and pipes were laid …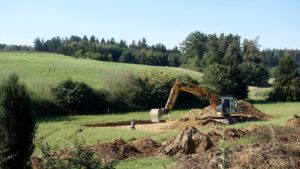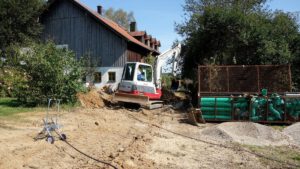 Beginning of last week the 4 large concrete tanks for the new "small sewage  was delivered and lifted into the large, prepared excavation pit.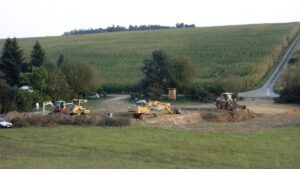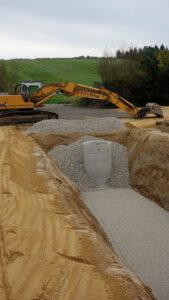 After completion of the sewage treatment plant, the foundation for the barn will be concreted. The barn itself is planned to be constructed in October. With your support, we want to do the concrete plastering and the wooden planking on the outer walls ourselves. Builders have already contacted us to offer their help. Nevertheless, we would be delighted if there were still helpers who would be happy to give their energy as Dana.
Please contact us by phone or email for further information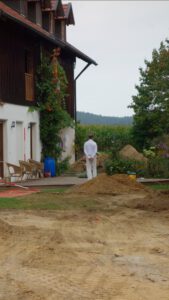 And as you can see here, there is a lot of meditation practice happening in parallel with the construction work.
Status as of September 23rd: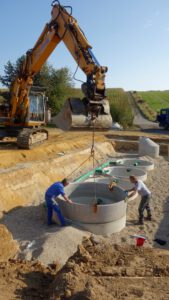 Status as of September 29th: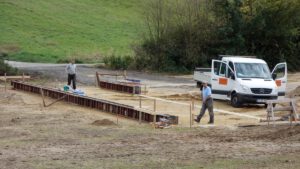 Since our last message, the Dana on the account of our association has also grown. Thank you very much. It is great to see so many of our Sangha contributing in this way to promote growth in the Dhamma.
Please indicate the purpose of your Dana as follows:
"Extension Dhammacari"
Account details:
DHAMMACARI VIPASSANA MEDITATIONSZENTRUM E. V.
SPARKASSE ERDING – DORFEN
IBAN: DE74700519950010183903
SWIFT-BIC: BYLADEM1ERD
With metta
Your Dhammacari-Team